Basic Sugu Setup
Setup your Sugu account quickly to start managing your business immediately.

Change Your Login Password
When you log into your @Assist Sugu account, the first thing you want to do is change your password. Click on the far right "User" tab on the top menu then select "My Profile". Click on "Change Password" in the box Personal Account Information. Input your current password, followed by the new one you will be using from now on and click "Update".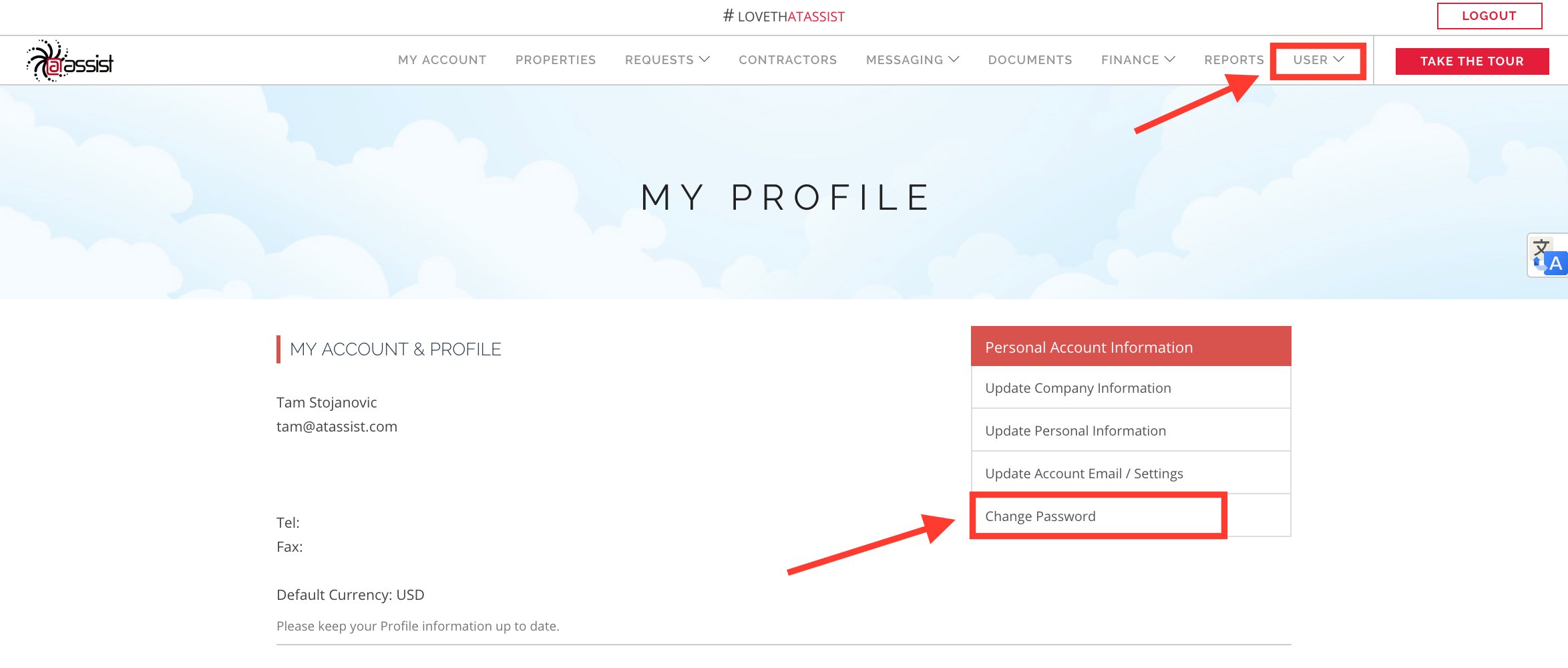 Add a Property
Click on the "Property" tab. Once you're on the Property page click on the blue "Add a Property" button at the top right. Fill in the basic details such as address, what type of property you're adding and whether your property has units. Then click "Add Property".
Fill in the Details
Click on the name of the property you just created and fill in the details. There are many fields you can add information to, add images and amenities.
Assign a Property Manager
While viewing the Property Information page, click on the blue "Assign Property Manager" button at the top right. You can always change these details later if needed.
Add Units and Details
Once you've set up the property, it's time to add your units. (Depending on what type of property you manage) On the "Property Information" page, click on the "Add Units" button on the left.
*Your vacant units can be viewed with all of their details and residents can be added at anytime.
For occupied units:
Add Residents to Units
Click on the unit you want to add a resident to. Click on the "Add Main Resident" button and fill in the resident's details. After submitting this form, an email will be sent to the resident's email address you provided introducing @Assist Sugu with instructions on how to log in.
Add Additional Residents
Click on the "Add New Resident" button towards the bottom of the right side. They will receive notifications of events but only the main resident has access to the @Assist Sugu Account.
Add Billables
Click on the "Add One-Time Billable" button on the right hand side. This helps tracking financials even easier and your residents can see what they owe and when.
Finally, Add Bank Accounts
Hover over the "Finance" tab in the top menu and select "Bank Accounts" from the drop down options. Click on the green "Add Bank Account" button on the right and choose your currency, starting balance and date.
You're basic setup is now complete! You can also check out our other sections to add more to your account to ensure you're getting the most out of @Assist Sugu's features.
Happy Managing!
---
How Did We Do?
---